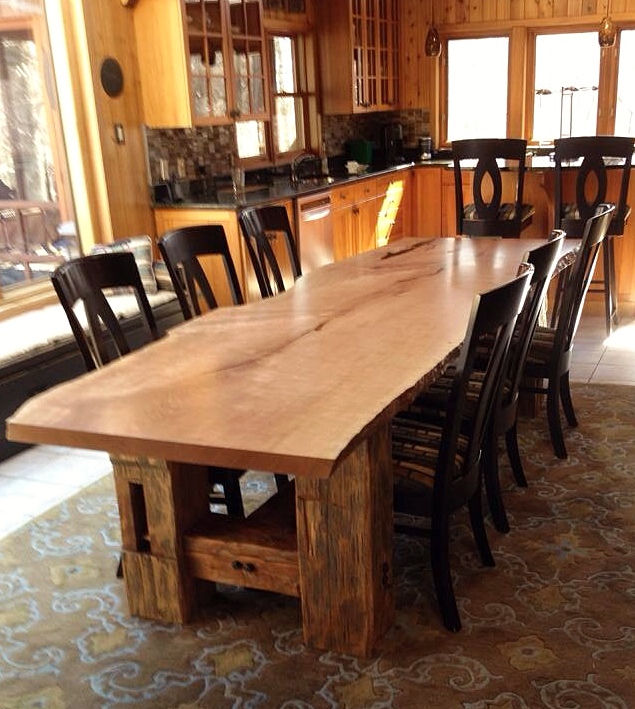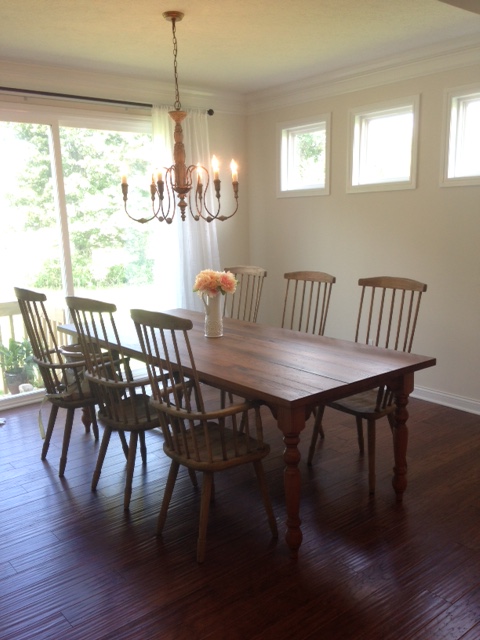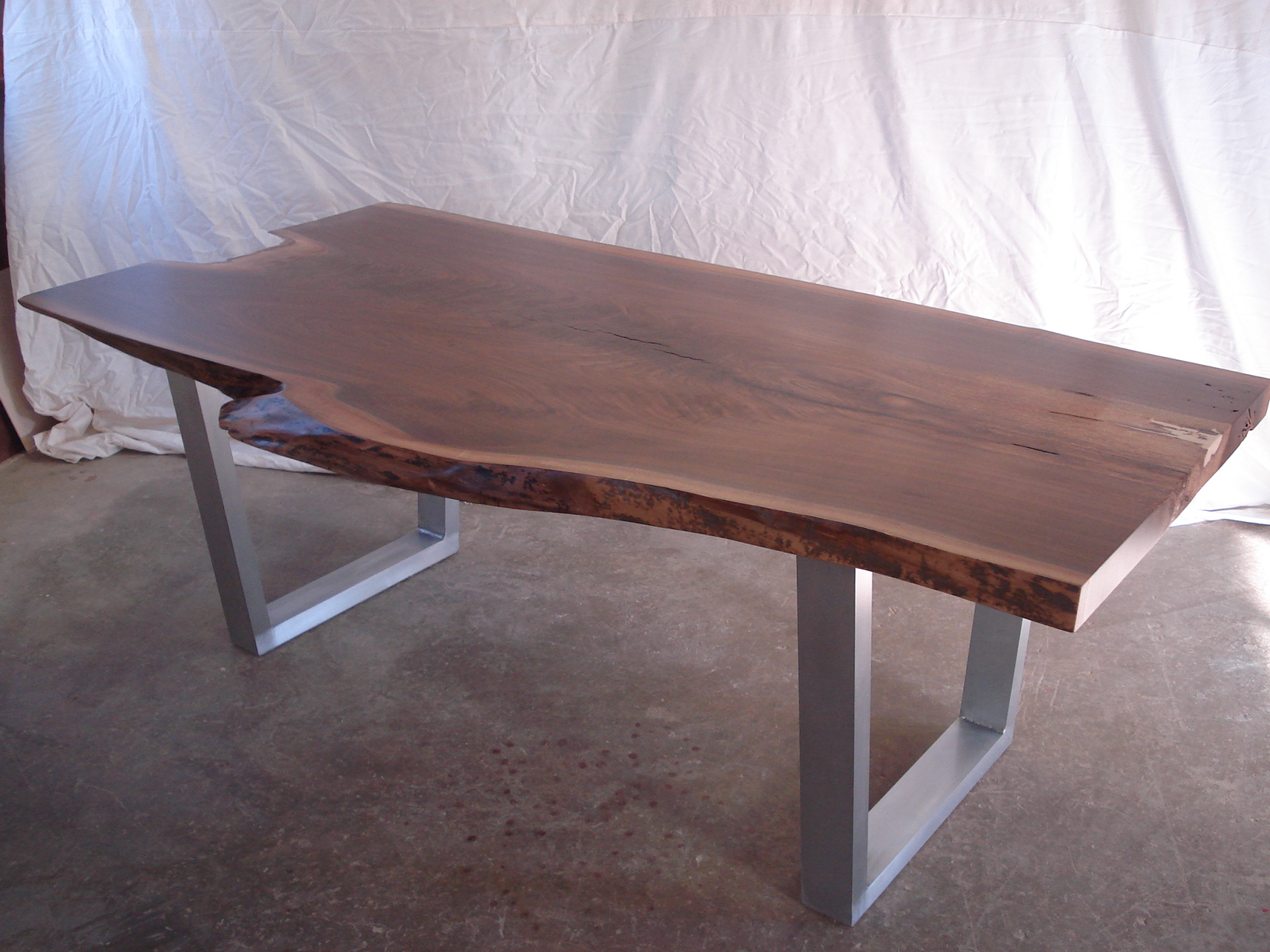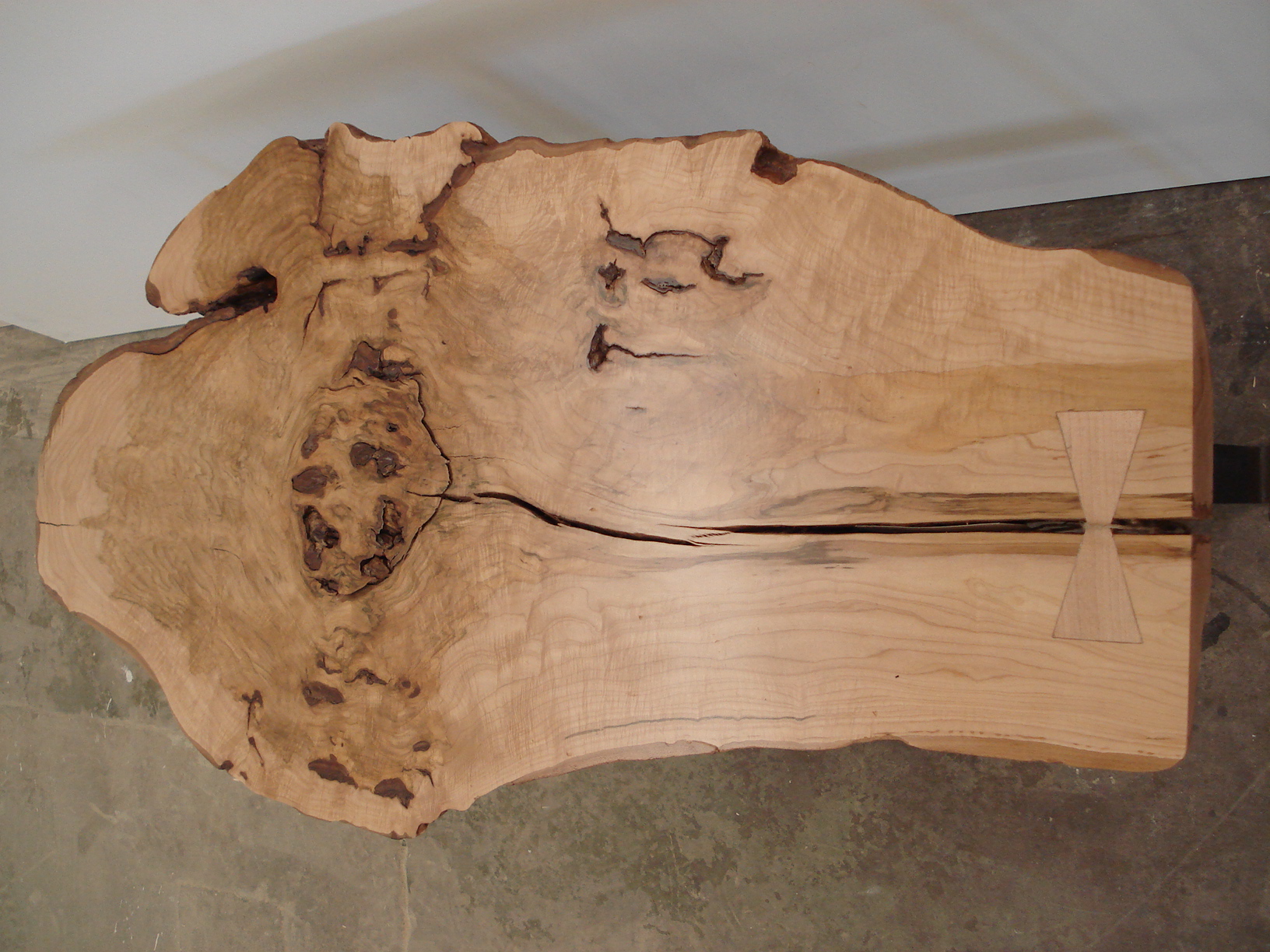 reclaimed oak dining table
We worked along side the homeowner to create this dining table for this very room. The table was inspired by one of our original designs but this one was built on a much larger scale at 8 feet long and 6 feet wide.
olive wood stump pub table
This table was created for customers that were inspired by their recent trip to Israel. This piece definitely brings the outdoors into this space.
live edge walnut sofa table
Designed to compliment this modern home, the walnut sofa table is a beautiful combination of natural wood and steel.
one of a kind console table
The wood of this console table has ingrown bark woven throughout the table top giving it a unique look. The steel legs are kept simple so they don't compete with the gorgeous wood.
walnut live edge dining table
Each live edge piece is unique and requires legs to be custom made to fit. These "x" legs are steel in our patina finish.
walnut live edge table
This table was designed to be used as one long table or separated as three individual tables. The walnut table top is one slab that was cut into three pieces for a seamless look.
walnut live edge console table
Designed to compliment the previous dining table this console table has many purposes. A great place to pull up a stool or serve food.
oak live edge craftsman dining table
John took inspiration from the craftsman style while designing this dining table. It fits well with the customers style.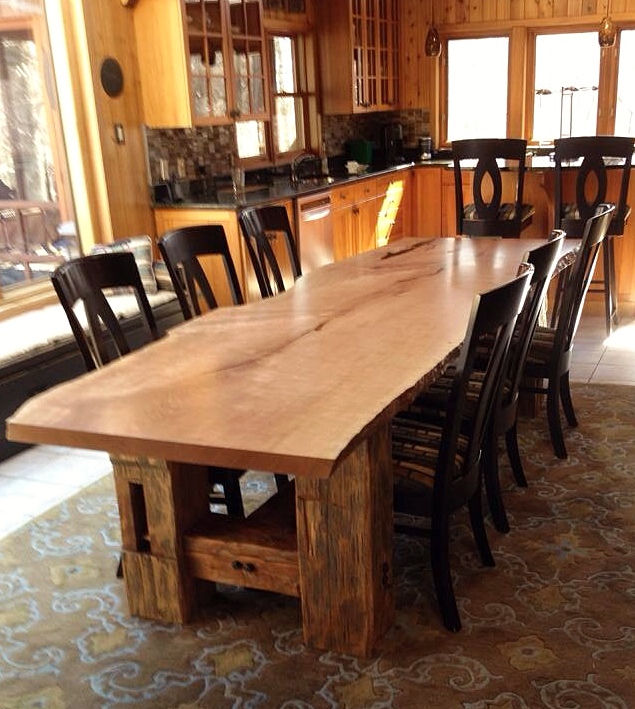 cherry live edge dining table
Reclaimed barn beams were used to create a unique table base for this gorgeous cherry table top.
live edge cherry table top
A close up look at the beautiful character in the cherry table top.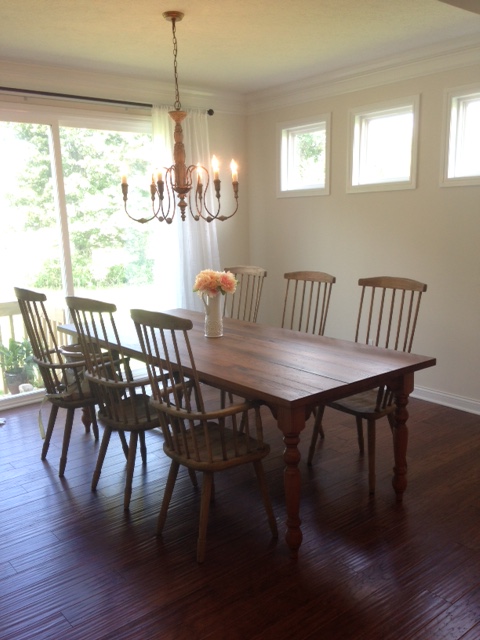 reclaimed oak farmhouse dining table
The oak dining table was custom designed to fit perfectly in the customer's new home.
industrial desk and bookcase
These pieces are a nod to the industrial style and made specifically to fit this office space.
industrial credenza
This piece of furniture was created to compliment the previous desk and bookcase. Used to store all those supplies that you need for a well functioning office.
reclaimed oak dining table
We designed this dining table to fit in a modern, yet small townhouse. Simple and understated.
reclaimed oak bar stools
There is plenty of room for your bum on these comfortable bar stools.
With shades of brown and gray streaking throughout, ambrosia maple is sure to make a statement. And the steel legs of the desk compliment the wood well.
ambrosia maple filing cabinet
A filing cabinet has never looked so good. This unique piece has a combination of steel, maple and ambrosia maple and was created to use with the previous desk.
airplane window end table
A lot of thought went into this piece for a member of the Air Force. An airplane window was incorporated into this one of a kind design to create an end table.
walnut chest/coffee table
With accents of leather and silver this walnut chest was made as a wedding gift to be used as a coffee table. There are so many details in this piece.
live edge walnut/hickory console table
Designed to combine live edge walnut and hickory for a one of a kind entry table featuring custom drawers and handles.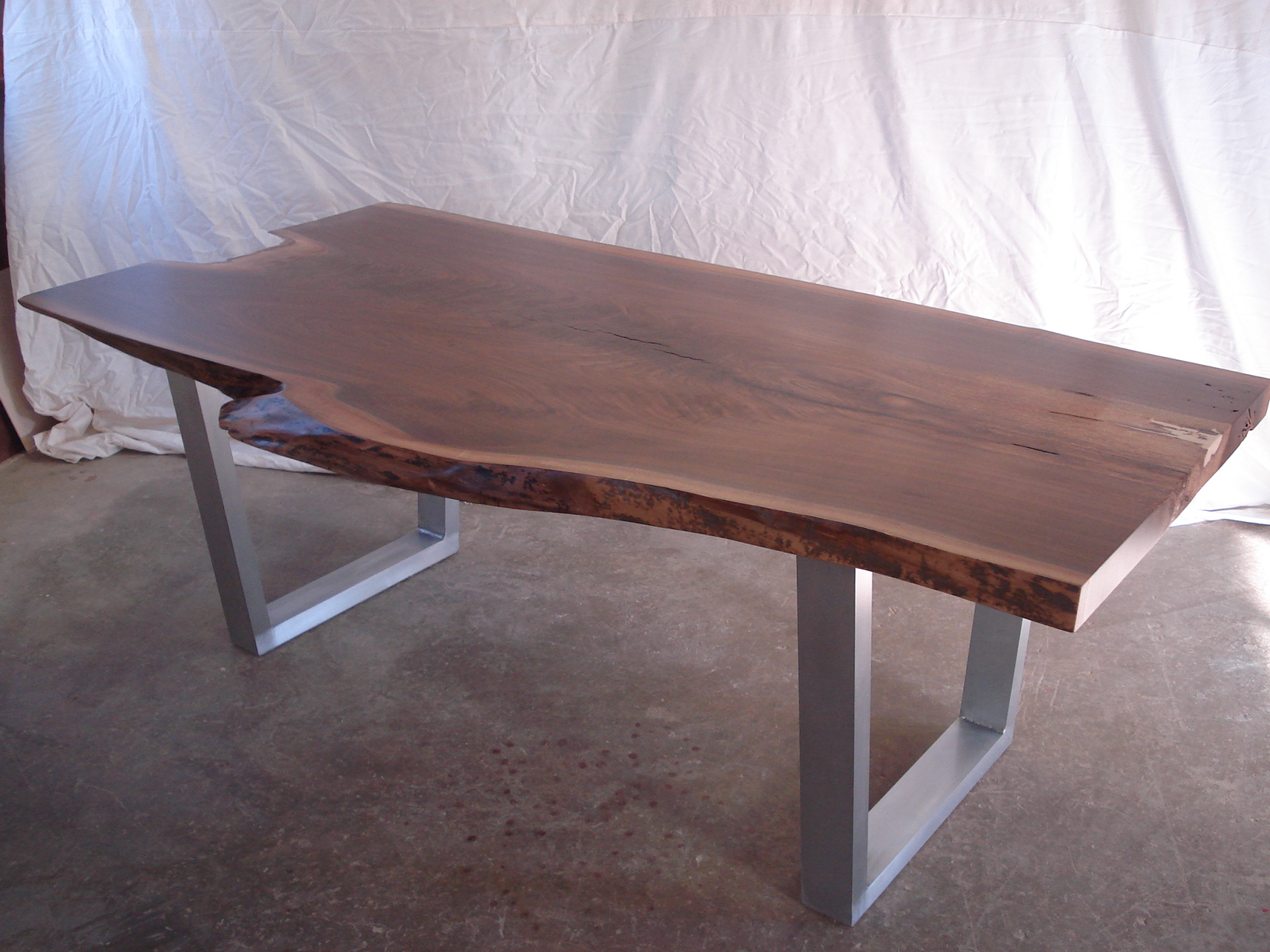 walnut live edge desk
Live edge walnut combined with stainless steel legs gives this desk a modern style.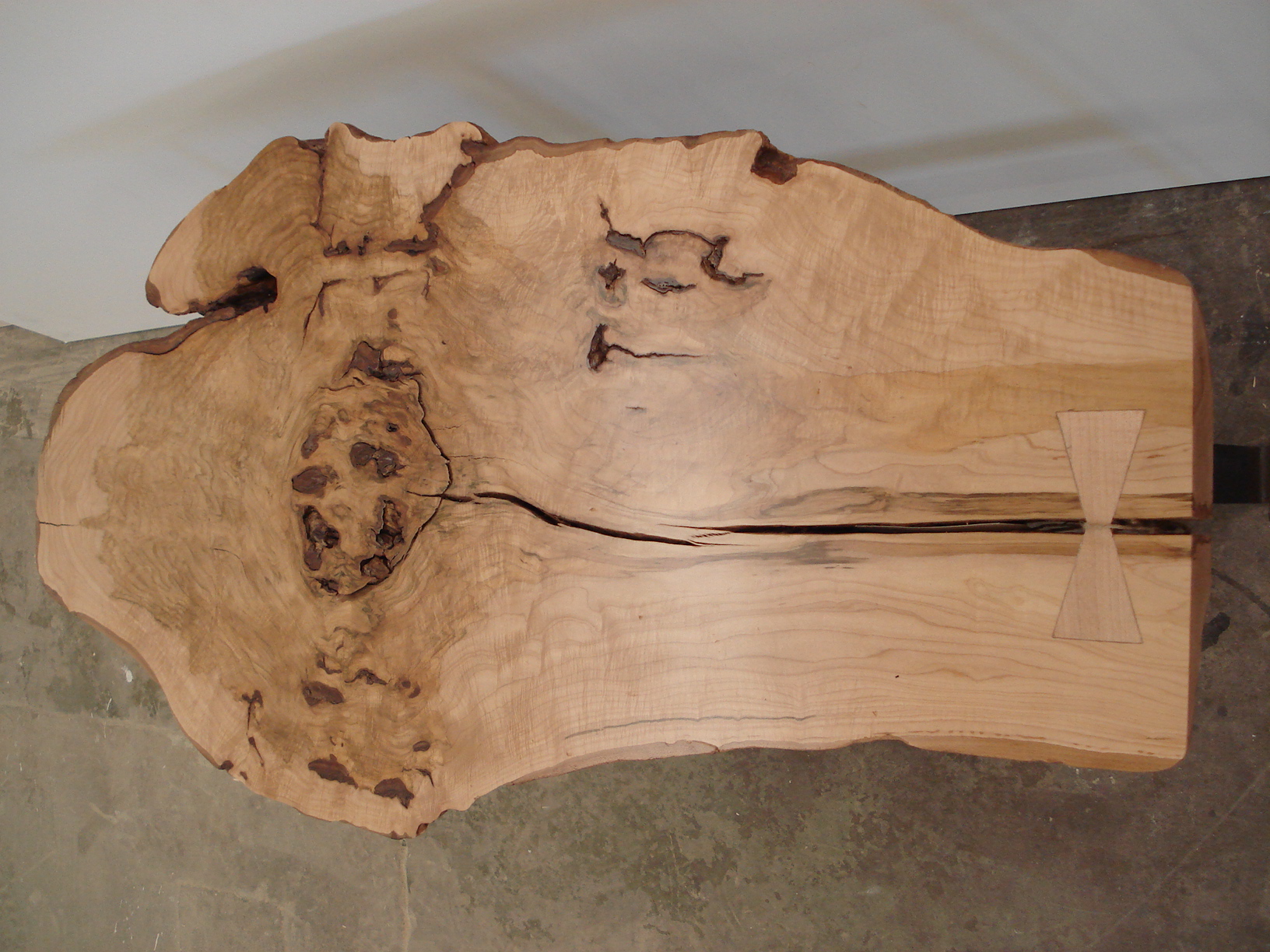 maple live edge coffee table
Each live edge slab is unique and this coffee table does not disappoint.
hickory live edge coffee table
The character of this wood is put on display with this unique coffee table. And those bowties are not only decorative but functional to keep the crack in the wood from moving.